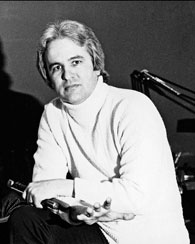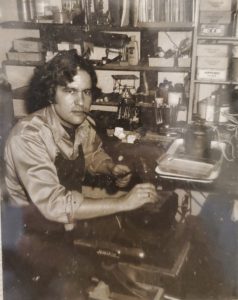 Joel Bagnal graduated from Stetson University with a major in art, where he first began his goldsmithing career in elective classes under Robert Ebendorf, a young metalsmithing instructor who had recently returned from a Fullbright Fellowship in Norway. Stetson was followed by a Masters of Education from Boston University and a Masters of Fine Arts in Metalsmithing from University of Georgia.
Over the next ten years, Joel established a metalsmithing curriculum at Cedar Crest College in Allentown, PA; was the charter metalsmithing faculty member in the founding of Boston University's Program in Artisanry; received a National Endowment for the Arts individual craftsmen's grant, and founded Joel Bagnal, Goldsmith, Inc. with custom design goldsmithing shops in Wellesley and Concord, MA. Joel was one of the 64 original members of the Society of North American Goldsmiths (SNAG), founded in 1969. SNAG is over 40 years old and has over 3000 members. Society of North American Goldsmiths
In 1982, Joel relocated back to Jacksonville,Florida, his birthplace in an affair of the heart that would bring him to place his love of goldsmithing behind personal responsibilities to family for more than 20 years. But during that time he maintained his bench and continued private commissions while pursuing various careers in business interior design, office systems marketing, business process reengineering, and finally, in 2001, healthcare consulting with IBM.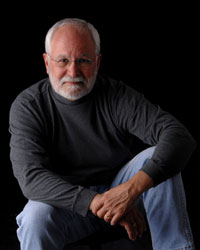 Since late 2001, Joel has been a resident of St. Augustine, Florida, and happily married to Nancy "Hookey" Hamilton, a prominent St. Augustine, photographer, since 2004.
"It's been a long time coming home to the profession I love and St. Augustine is a perfect place to reconnect with such a historical setting where crafts once flourished as a matter of necessity and now are reborn in galleries that show the quality of local artists' and craftsmen's work.
Hookey and I have our photography and goldsmithing studios where we enjoy sharing our visions and work with friends and clients. It is a real honor to be creating custom gold jewelry designs for special occasions. A custom gold wedding band or a gold fingerprint pendant brings such a smile to the recipient. My passion is creating unique works of art in gold and silver.
My great pleasure is the marking of special occasions with my clients. We brainstorm and sketch ideas that can only spark from the creative collaboration of craftsman and patron. And then I bring those visions into the reality of precious metals and gems. It doesn't get much better than that."